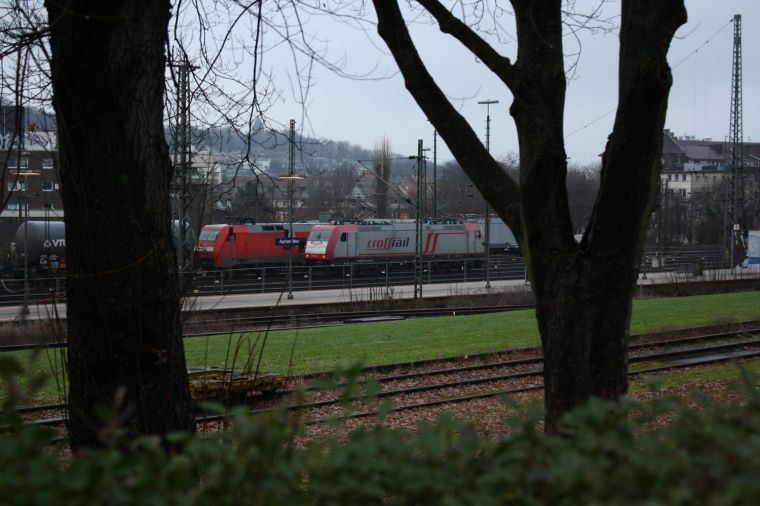 Posted: 18 December 2008
| | |
| --- | --- |
| Taken: | 2008-12-18 21:47:44 |
| Camera: | Canon EOS 1000D |
| Exposure: | -1/1 |
| ISO: | 400 |
| Aperture: | f/5.0 |
| Exposure Time: | 1/50 |
| Focal Length: | 43 mm |

This work is licensed under a Creative Commons Germany license.
Notes
Assembled here in Aachen West are three top-modern electric locomotives. From left to right we first have a DB class 152, also known as Siemens ES64F (though not widely). It's the standard heavy freight electric for services that don't cross borders, although it shares some of the fame with the related classes 189 and 182 (Siemens ES64F4 and ES64U2, respectively).
To the right and in front we have a 185.2, also known as Bombardier Traxx 2 AC2 F140, which shows why everyone just calls it 185.2. It's owned by american leasing company BTMU and currently leased to swiss Crossrail. The base color scheme (without the Crossrail logo and stripes) was designed, at least in part, by the webmaster of Railcolor.net. Now, I absolutely recommend Railcolor.net if you want to find out something, anything, about a modern electric locomotive (recently they branched out to diesels with electric transmission) of european descent, but for painting your new locomotives? Well, you see it yourselves…
In the background the gray wall belongs to a 186 (Bombardier Traxx 2E MS F140) owned by leasing company Angel Trains Cargo, currently leased to belgian state railway SNCB/NMBS, and from there currently rented to COBRA. I'm sorry that I didn't get a better picture of that, but I'll make up for it tomorrow.
0 Comments
New comments can no longer be posted because it got to annoying to fight all the spam.