TR Poser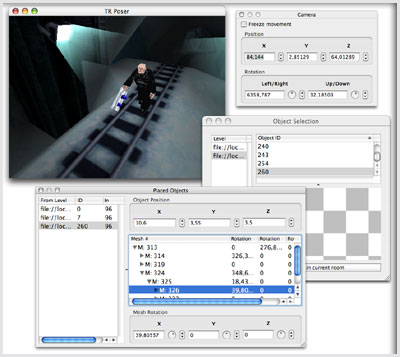 TR Poser can do only thing, and even that not particularly well: Place characters and/or objects so that I can make Comics. To be precise, it can load and display levels from Tomb Raider 1 to 4, then place animated objects from this or other levels inside them, and finally adjust the angles between the different parts of the animated objects. That's it.
A lot of bugs are troubling me with this program. For example, Lara's ponytail and weapons don't show. The UI is also quick and dirty, and a lot of oddities in there are troubling me, but not enough to really bother. Highly important features such as saving, loading, copying or removing unwanted objects have finally been implemented, however.
I used to offer it for download, but nobody cared, so I stopped. It's still available on request, but please beware: It is Mac OS X only.