TSpread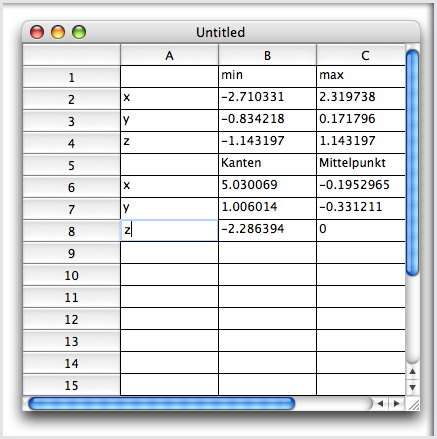 TSpread is meant to be something like TextEdit for spreadsheets. It has to calculate, and nothing else. Graphs, formatting or talking paperclips are for other programs.
Current Features
Table view, including basic things like copy and past, or navigating with arrow keys.
Calculations, including those that refer other cells.
A small selection of mathematical functions.
Planned features
More functions
Load and save (preferrably in OpenDocument format)
Fix lots of bugs
Nice to have, but not really required
Multiple Selection (including list selection)
Importing Microsoft Excel files (if I can find documentation on the internet)
Functions that take lists as parameters
More intelligent table view
If I ever bothered, I should be able to implement the planned features in about one week.