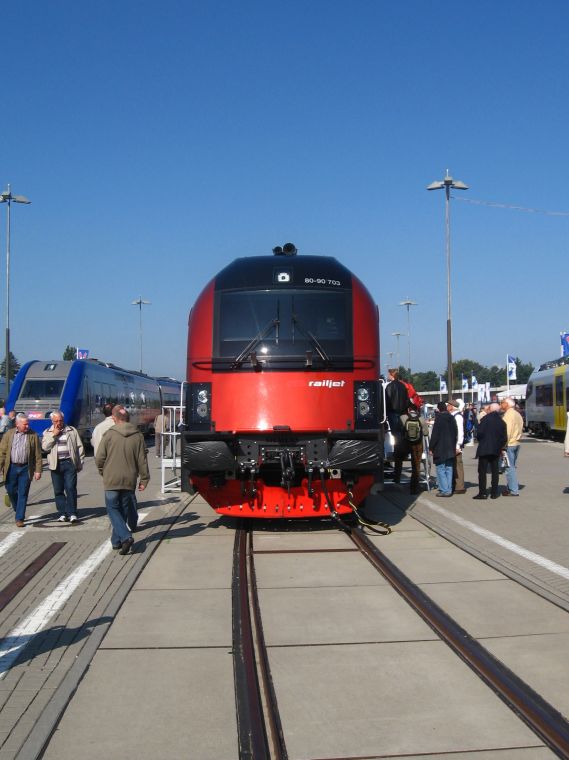 Posted: 29 September 2008

This work is licensed under a Creative Commons Germany license.
Notes
In terms of high speed traffic, the austrian ÖBB goes into a very different direction from all the other railroad companies. Standard are EMUs, but ÖBB instead uses the old configuration of locomotive, carriages and cab car. Here we see the cab car, which is designed to look very similar to the ÖBB electrics of classes 1016, 1116 and 1216, collectively known as "Taurus". The reason for all this is that ÖBB has a lot, some even say way too many, of these modern and fast locomotives, so it makes good sense to use them for this traffic. By the way, a class 1216 Taurus also holds the world speed record for conventional locomotives (instead of EMUs) at 357 kph (222 mph)
The cars, all newly built specifically for this purpose by Siemens, only allow a top speed of 230 kph, which is also the maximum possible in austria (the world record was made on a german high-speed line). Inside, they are the most luxurious I've ever seen, with only two seats side-by-side in the highest class. I wonder how ÖBB expects to pay for these new trains if they can only carry so few customers.
0 Comments
New comments can no longer be posted because it got to annoying to fight all the spam.