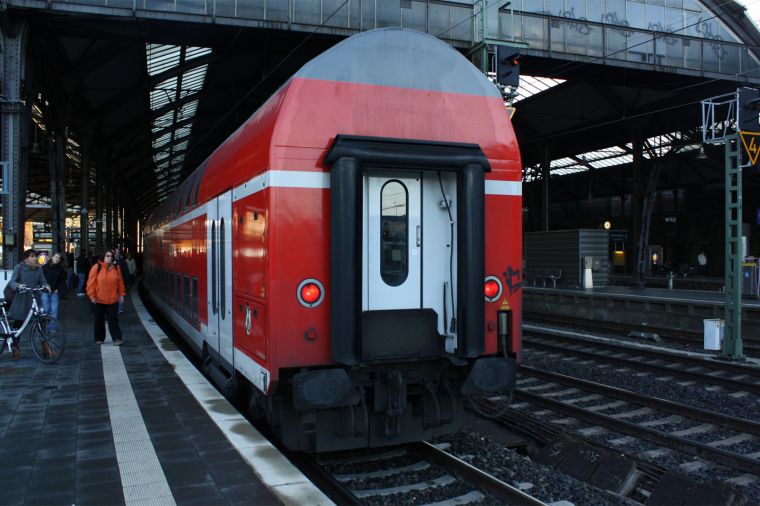 Posted: 13 November 2008
| | |
| --- | --- |
| Taken: | 2008-11-13 17:50:25 |
| Camera: | Canon EOS 1000D |
| Exposure: | -1/1 |
| ISO: | 200 |
| Aperture: | f/5.6 |
| Exposure Time: | 1/80 |
| Focal Length: | 18 mm |

This work is licensed under a Creative Commons Germany license.
Notes
This used to be a common sight, but these days, it's getting increasingly rare that you can see the rear end of a train, instead of a cab car or an E/DMU, in Germany. On this journey (last saturday), however, the RE1 was put in the track at Aachen Hbf (where it starts) ten minutes late already due to "unexpected shunting", and apparently they decided that the cab-car was not worth the effort. I guess the guys in Hamm, where the train ends and after a while drives back, were very happy with this decision…
An interesting point that you can more or less see is that this such a double decker car can be coupled with any other passenger car that corresponds to UIC standards , and the walk-through is at the same height. This is an attribute that all german double-decker cars share, even though this capability is almost never used in normal operations. One thing I don't quite get is the trapezoid form of the buffers, I wonder what this is meant to accomplish. Finally, you can, if you look closely, see the areas that the washer system in Aachen can still reach, and those that it doesn't.
0 Comments
New comments can no longer be posted because it got to annoying to fight all the spam.