Meilenwerk Düseldorf
I spent the day at the Meilenwerk Düsseldorf. This place describes itself as "Forum für Fahrkultur", which can be translated as "Forum for driving culture". It is an area for all things that have to do with exclusive cars, including stores, repair shops, insurance salesmen, a restaurant and lots of place to store your exclusive cars, should you have any. There are currently two of these, on in Berlin and one in Düsseldorf. A third one will open in Stuttgart soon.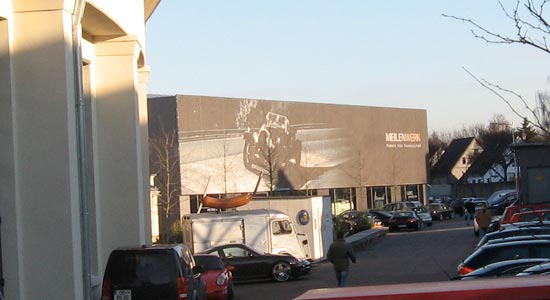 It resides in a no longer used roundhouse, which has been converted with great attention to detail for it's new purpose. When arriving, the first thing worth checking out is the parking lot. Chances are you'll find lots of interesting vehicles there already.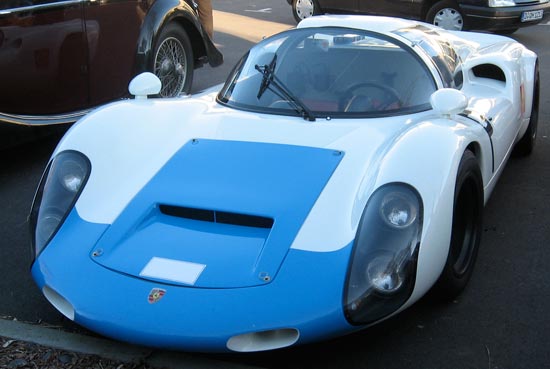 Entry is completely free for everyone, so you can just go straight in. On the edge, there are some of the car retailers and all the repair shops. With car retailers, I mean ones that sell interesting cars. Morgan, for example.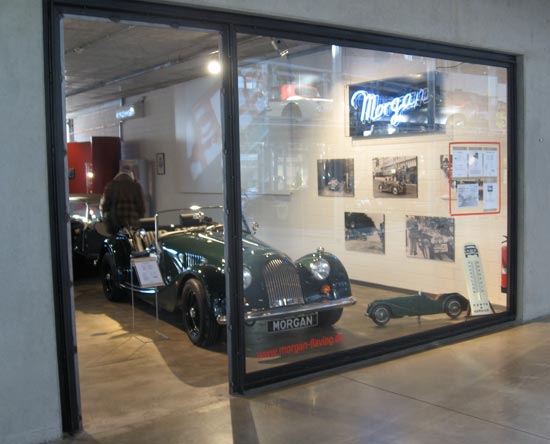 The repair shops all have huge windows, and you can see what exactly they are working on (which isn't much on a sunday). They are roughly divided in german (focus: Mercedes), italian (focus: Alfa Romeo), british, french (focus: Citroën DS) and american cars. In addition, there are some who will handle general restoration, and one for leatherwork.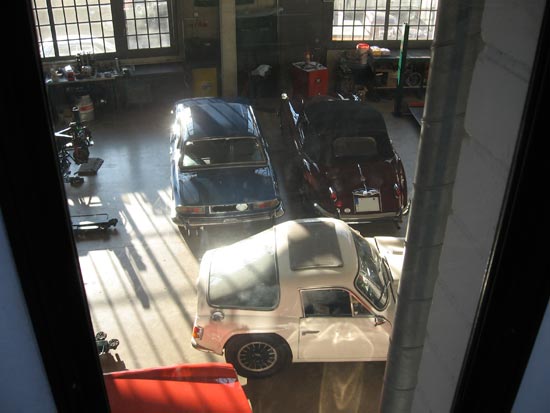 Next, right behind the gates of the old roundhouse, you'll see the glass car boxes. These are a trademark item of the Meilenwerk, and among the most exclusive parking spaces you can get. Private people can store their expensive cars there, so everyone can admire but none can touch. The one in Berlin has a triple-digit waiting list. Düsseldorf has far more places, and not all where in use when I visited. Still, there's lots of interesting and partly odd stuff to see.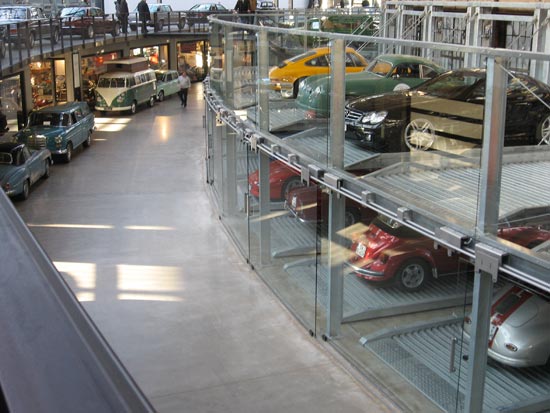 In the middle area, where the turntable and connecting tracks used to be, a roof was put up, and now it's the show-room for four dealers of highly interesting cars. While you are not generally allowed to touch the cars, you can walk freely, and if you have the money (I don't), you can buy nearly every single car you'll see in that area. The exception are cars that are already sold, of course.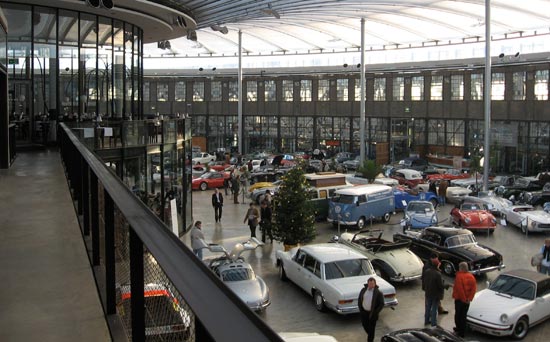 And now, some random car highlights:
Bizzarrini 5300 GT America. To be honest, I had never heard of that car before, but it sure looks as if it could be a nice addition to Interstate.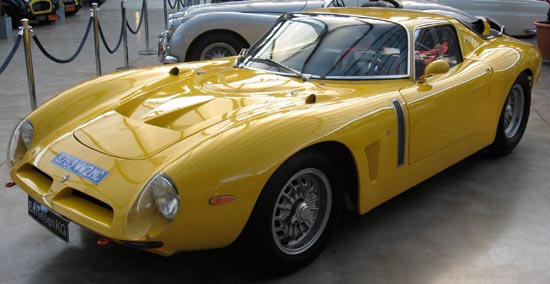 I especially like that you can see the fuel and air ducts through the glass.
Mercedes-Benz 300 SL with the famous gullwing doors. In the background, a DeTomaso Pantera, fully built as a group 4 racing car. Even more behind, some BMW and some Porsche.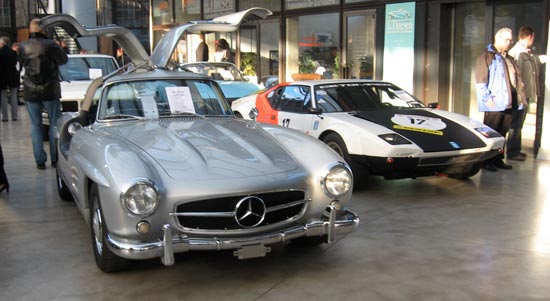 Compared with what else you can see here, a Lamborghini Murcielago Roadster is a really boring car.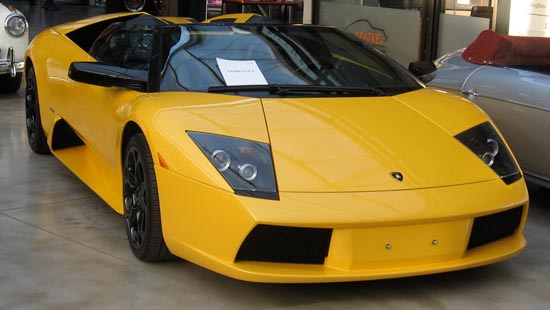 A 1935 MG TF. Certainly a very nice car.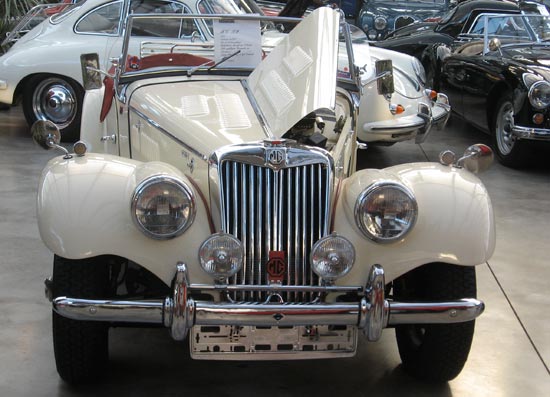 Not really certain what this is, other than it's british.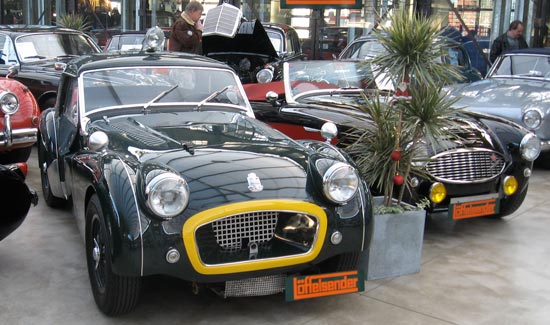 Another car I really cannot tell you more about. I'm not even 100% certain I got the front end.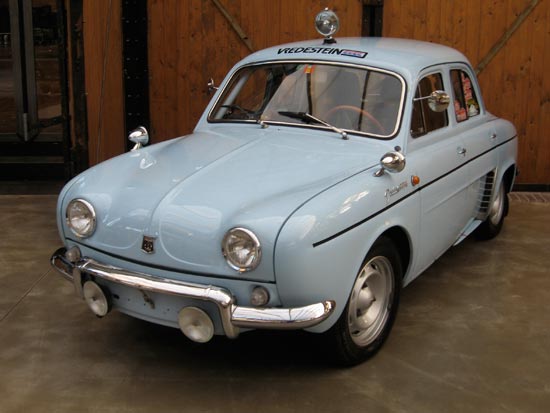 Two times Jaguar E-Type. One of the really classic british sports cars, and oddly enough, marketed at it's time as being very cheap for what it does. That seems to have worked out fine, I counted at least four of them here.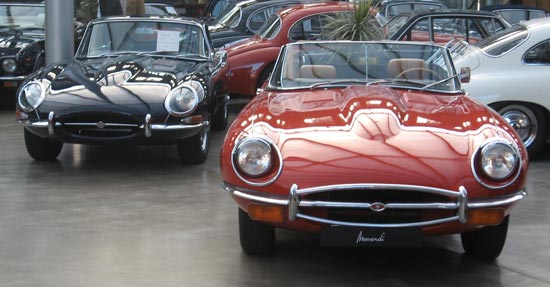 Ferrari F40. I didn't see any F50 or Enzo here . The one in Berlin has at least two resident Enzos, though. But to be honest, I like the F40 better.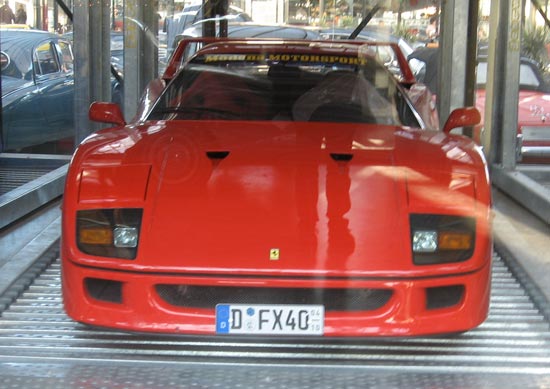 That Daimler has seen better days. Now, it remains only as an advertisement, in a spot that's not even easy to see.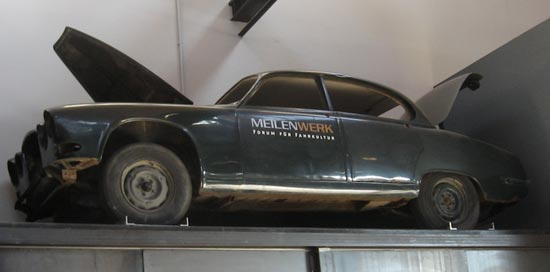 Probably the smallest car in here: An Autobianchi A 112 Abarth.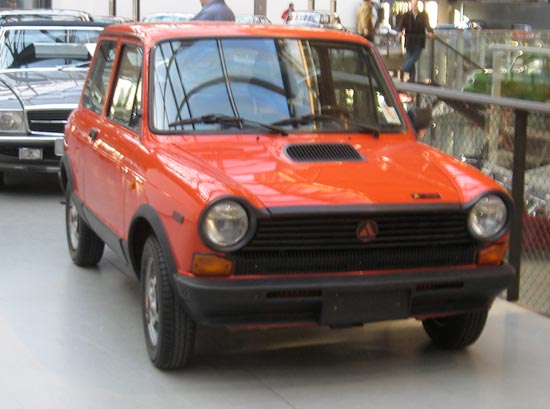 That vehicle just made me lol. Old Goliath van. David just might have been a better name.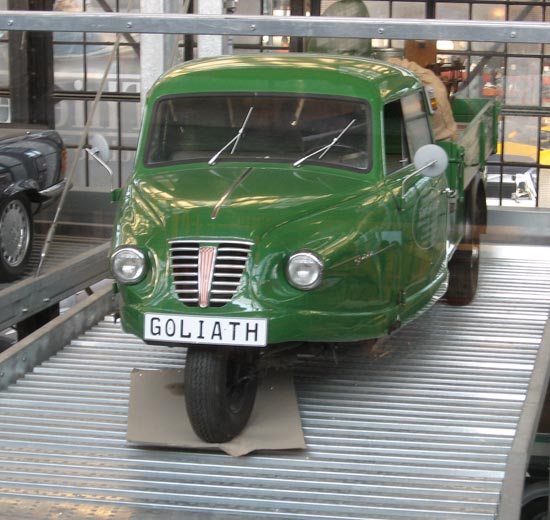 Removed paragraph and image because of complaints.
Continuing: I guess the signatures on this E-type hood are from famous people, but I couldn't identify any. I didn't try hard, though.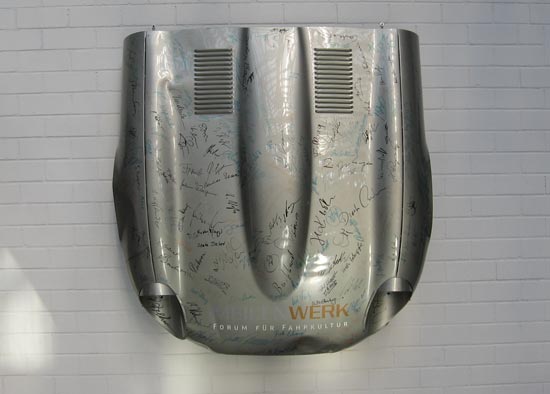 So, if you're ever in the area, be sure to check it out.
Written on December 16th, 2007 at 09:05 pm
in berlin gibt es nicht nur 2 enzos

achso ich weiß jetzt im meilenwerk in berlin sthen 2 enzo aber in berlin fahren 5 rum

Genau. Es kann sein, dass im Berliner Meilenwerk auch mal mehr als zwei stehen, aber als ich das letzte mal dort war sah ich zwei.

torsten wenn ich dich dutzen darf hast du da auch den roten und denn schwarzen gesehen die mit berliner kennzeichen

Darfst gerne duzen. Einen roten habe ich sicher gesehen (davon habe ich auch ein Foto gemacht), bei einem schwarzen bin ich mir nicht mehr ganz sicher, aber es könnte gut gewesen sein. Es ist jetzt auch bald zwei Jahre her, dass ich das letzte mal bei dem in Berlin war, daher kann es sein dass ich da irgend was vergessen habe.

Ich hab mir deine Seite mal angesehen, und ja, ich glaube, den schwarzen, den du dort fotografiert hast habe ich dort auch gesehen, mit den schwarzen Felgen. Ein Beweisfoto habe ich aber leider nicht.

udn wie findest du meine seite SONST SO ß


Gefällt mir gut, die Seite ist doch ganz interessant.

ich stelle bald noch ein paar bilder rein

nico

torsten ? kennst du flickr

nico

http://www.flickr.com/photos/aston44/ hieer ist ein link von meiner neuen internet seite für torsten!

wennd u flickr denn kennst wenn ncith lern es einfach kennen :D

Bob

The Guy who did the comments is a complete Idiot