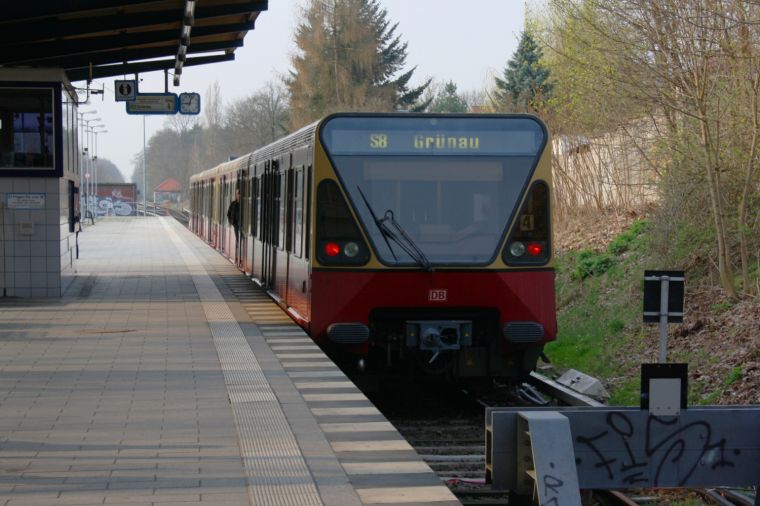 Posted: 9 April 2009

This work is licensed under a Creative Commons Germany license.
Notes
Berlin itself is already fairly large, but it has a large commuter belt (named, much more funnily, "Speckgürtel" in german) of independent towns surrounding it, and quite a few of them are connected to the city proper with the S-Bahn. An example is Hohen Neuendorf, situated along the "Preußische Nordbahn" (prussian northern line). It's section to Oranienburg (north of Hohen Neuendorf) was one of the first three lines to be electrified with 750 V DC via third rail. Berlin's S-Bahn is the only area in Germany using this electrification system, which was chosen to avoid having to rebuild bridges and the like.
When the Berlin Wall was built, this line was interrupted between here and Frohnau, Berlin. As a replacement a new S-Bahn line was built via an outlying freight line. The original line, the S1, was restored in 1992. However, the other line still exists under the name S8 and connects Hohen Neuendorf with Grünau. For some reason it uses class 480 EMUs exclusively, I haven't seen any of the other two types used on the system on this service.
Hohen Neuendorf is also the place where relatives of mine live, so it became my base of operations for the short duration of my stay in Berlin.
0 Comments
New comments can no longer be posted because it got to annoying to fight all the spam.