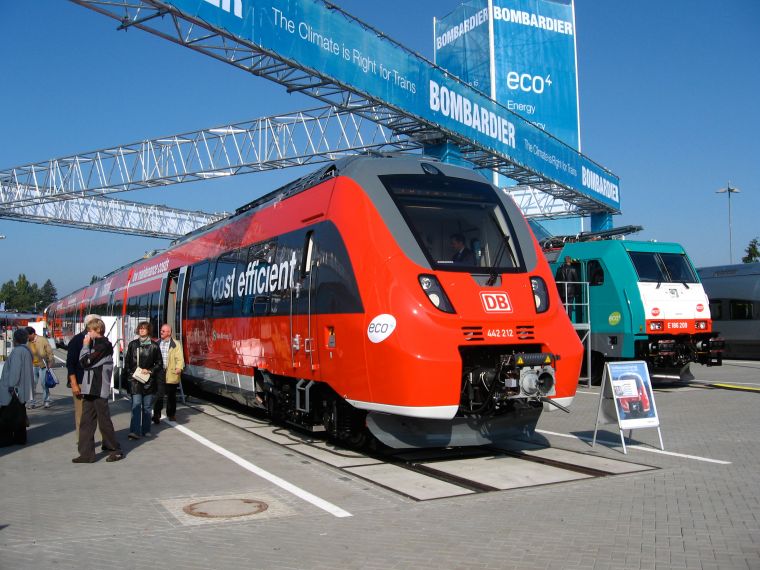 Posted: 29 September 2008

This work is licensed under a Creative Commons Germany license.
Notes
This is something I've not been looking forward to, but I guess it had to happen. Ladies and Gentlemen, meet Bombardier's newest EMU: The Talent 2, here in the version for the S-Bahn Nürnberg (Nuremberg)
It is a complete new construction over the old one. Since the trend goes towards a train being leased for a time, then used somewhere else, instead of being bought for a route and then staying there forever, it is much more flexible than the original. You can change entry height and the number of doors rather easily after you bought it, as well as seating arrangements, toilets and the like. Unlike the original Talent, you can have as many powered trucks as you want (the first one allowed only the first and last one to be powered). Also, most propulsion technology is on the roof, where it's easier to access for maintenance, and this enables nearly full step-free low floor operations. It's also electric, which was more of an afterthought for the original one, but is built right in the concept here (oddly enough, I haven't found anything about a diesel Talent 2. Maybe that role will continue to be filled by the old one). Of course, the newly constructed driver's cab fully complies with all the latest crash safety standards, which is a common theme for this year's Innotrans. Finally, it seems that they stopped using the word as an abbreviation.
Now, if you let me, a little rant. What the hell were the idiots at Bombardier smoking!? The original Talent, designed by Alexander Neumeister, was a piece of art in a pile of mediocrity in the regional railway business, looking like a pocket ICE. I usually try to maintain a family-friendly language here, but this is just a fucked-up piece of shit. Oh yes, they tried to keep the characteristic two-level design of the window bands, but the important thing is the elegant nose design, which they completely threw away for nothing here. It doesn't help that the train now has smaller windows and higher seats, meaning it's extremely dark in there. Maybe I wouldn't be so critical if this had a different name, but as a successor to the Talent, for all it's oh-so-cool new features, it's just an epic failure.
0 Comments
New comments can no longer be posted because it got to annoying to fight all the spam.