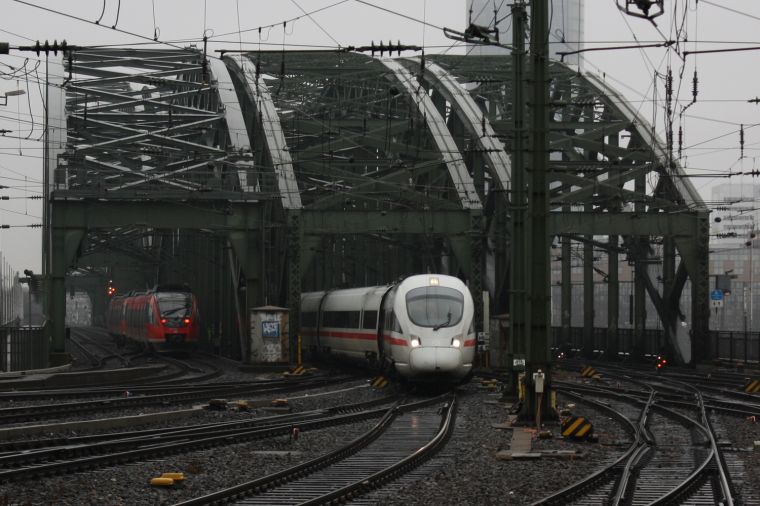 Posted: 17 February 2009

This work is licensed under a Creative Commons Germany license.
Notes
This may not be the very best picture of this train (you'd have to look at o-l-pixel's gallery to find that), but I really wanted to finally have this train in my collection.
The ICE T project originally started as IC T, which meant InterCity Triebzug (EMU), and was meant to replace conventional long-distance trains with locomotives. When it was decided to have the trains run as ICE instead, that didn't make much sense anymore since all ICEs are EMUs (except for the DMU version…), and the T got reinterpreted as "Tilt", since the train has a tilting mechanism.
Unlike the normal ICEs, the trains have a top speed of only 230 km/h (143 mph), but said tilting equipment (by FIAT) means that they can go faster on older lines as opposed to the new high-speed lines their big brothers operate on. They are also found in international service. 411 012 "Freie und Hansestadt Hamburg" (Free and Hanseatic City of Hamburg, yes that's the official full name of the place) belongs to the subset that is cleared for Austria. For some reason, I've never seen any of them with a DB badge on the front.
The EMU's design was created by designer Alexander Neumeister and intentionally looks very similar to that of the ICE 3 by the same artist. It also bears some resemblance to the Bombardier Talent to the left, which was also designed there.
0 Comments
New comments can no longer be posted because it got to annoying to fight all the spam.