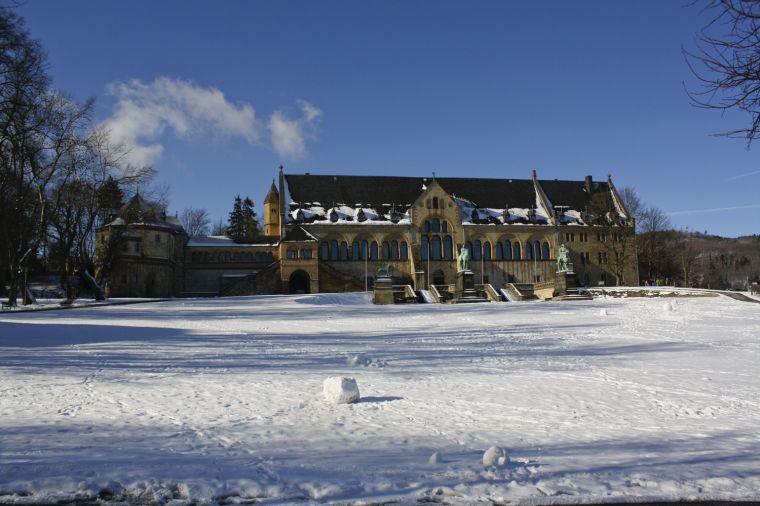 Posted: 18 February 2009

This work is licensed under a Creative Commons Germany license.
Notes
It seems that there is quite a lack of pictures here of Goslar's #1 landmark, the Kaiserpfalz or Imperial Palace. So, here is one, even with snow and blue clear sky!
The Holy Roman Empire of German Nation, as it was called from 800 to 1806, never had a capital. The emperor instead had a large number of imperial places over the country, in which he would reside. Once the city or region he was in was no longer able to provide for him and his large court, he'd move on. Goslar's Kaiserpfalz was built in the 1040s and 1050s, and is the most important of the very few remaining ones, as well as the largest secular building surviving from the 11th century in Germany.
Goslar itself often likes to claim some sort of precedence, and is among the towns that consider themselves the inofficial capitals of the old empire. It was pretty popular from the 10th to the 12th century, but in 1253 it was last used for it's original purpose and was reverted to the city of Goslar (from the empire) in 1290. Since, it was used for various purposes, including grain storage, but it got restored (with a focus on being impressive rather than authentic) starting in 1868. These days, it's a tourist magnet and also used for special occasions. As an example, my old high-school-equivalent always holds it's graduation here, which is very nice.
0 Comments
New comments can no longer be posted because it got to annoying to fight all the spam.