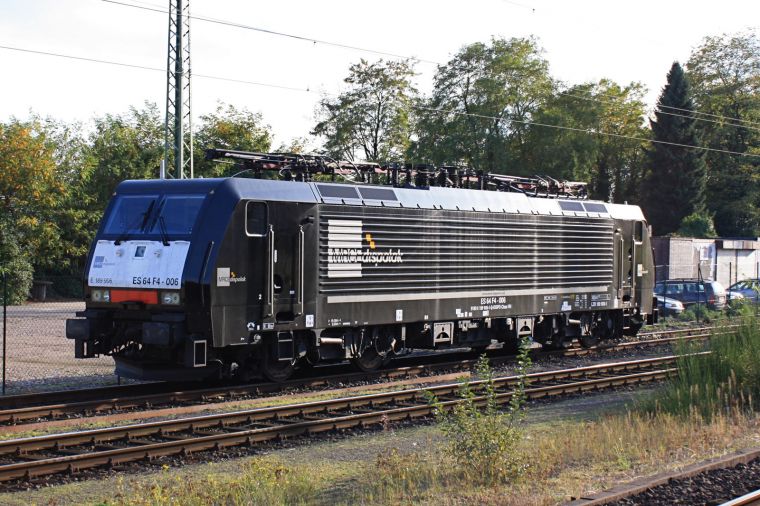 Posted: 21 October 2008
| | |
| --- | --- |
| Taken: | 2008-10-21 20:11:55 |
| Camera: | Canon EOS 1000D |
| Exposure: | 0/1 |
| ISO: | 200 |
| Aperture: | f/9.0 |
| Exposure Time: | 1/125 |
| Focal Length: | 33 mm |

This work is licensed under a Creative Commons Germany license.
Notes
Dispolok is one of the oldest locomotive leasing companies in Germany. The entire idea started with Siemens Transportation having a number of locomotives such as prototypes or units that were meant for Norway but failed to withstand the weather there, none of which had anything to do for Siemens itself. Since at the time the rail market was opened more and more and locomotives were (and still are) in high demand, Siemens decided to lease them, both for days and for years, together with an ever-growing number of locomotives specifically built for the new enterprise, titled Siemens Dispolok. The company used to be known for it's neon-yellow and silver livery.
2006, the entire thing was sold to MRCE, as it was rather out of line with what Siemens usually did. Mitsumi Rail Capital Europe was already a large leasing company at the time, and this move directly propelled them to the top. ES 64 F4 - 006 here shows the newest livery of MRCE Dispolok, as the combined company is called these days. As all MRCE units, it's held in black, but with a white area (legally required in the Netherlands) as well as a red bar (legally required in Italy). All MRCE locomotives get this as a design element, independent of the countries they are actually homologated for.
ES 64 F4 - 006, UIC number 94 80 0189 906-1, is a four system freight electric built by Siemens (MRCE has agreed to buy lots of Siemens locomotives in their deal with them, but this one was already with Dispolok before that), a type that operates as class 189 for DB. It used to be sub-type VD (Germany, Austria, Italy, Slovenia, Croatia, possibly Bosnia, Serbia and Montenegro as well), but has since been re-configured to sub-type VH, Germany and Poland. What exactly it is doing at the other end of the republic in Mönchengladbach isn't quite clear. Possibly it wants to get to the Siemens Testcenter Wildenrath-Wegberg whose connection to the rest of the railway net is on the nearby Iron Rhine. Then again, it might just have hauled a freight train here.
By the way, if you're interested in modern electrics, I recommend checking out Railcolor.net, an international site (english) about the latest and greatest in european electrics and the derived diesel types.
0 Comments
New comments can no longer be posted because it got to annoying to fight all the spam.