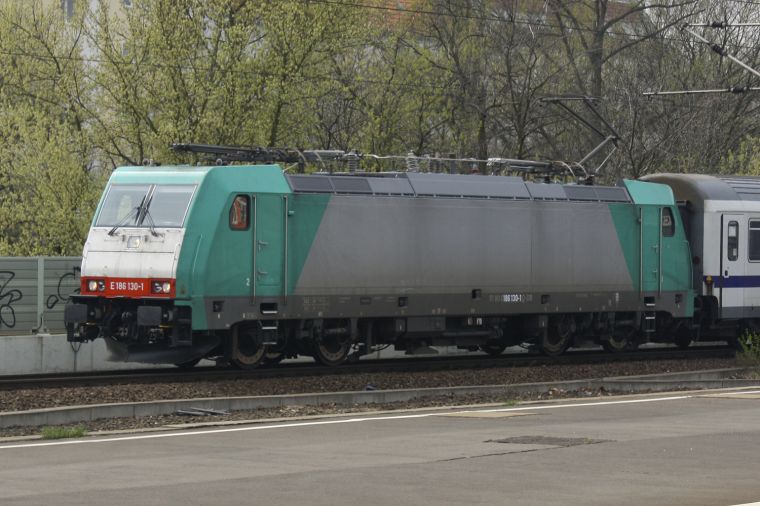 Posted: 12 May 2009

This work is licensed under a Creative Commons Germany license.
Notes
Let's go with something a little more boring here. This is not Aachen, still Berlin (Charlottenburg, to be precise), but again a class 186 (Bombardier TRAXX 2E F140 MS) locomotive. Some german rail publications will completely ignore the class 186 when listing modern electrics, saying "some private companies have a few". Actually, with more than 200 ordered and delivered, it's not a niche product by any means - and DB does have some, damn it, like 91 80 6 186 130-1 D-DB here. It's leased from Angel Trains Cargo and wears that company's livery, but the National Vehicle Register number says it's a DB locomotive, and that's all that counts for me.
DB uses three (I think) of these machines for service on the Berlin-Warszawa-Express, a train jointly operated by german DB Fernverkehr and polish PKP Intercity connecting, well, Berlin and Warszaw. It uses cars from either company, but painted in a unified livery (a dark blue version of DB's standard Intercity scheme). These multiple-system electrics replace diesel locomotives such as class 234 Ludmillas (which differ from the 232 ones by having a higher top speed of 140 kph/87 mph, like the 186).
186 130-1 is a) in need of cleaning and b) by far not the only 186 that can be considered part of DB's empire. The ones found in Aachen belong to SNCB/NMBS, but are operated by COBRA, a joint venture between the belgians and DB, and ECR, the french subsidary of DB Schenker's british subsidary, has ordered twenty of these machines as well.
0 Comments
New comments can no longer be posted because it got to annoying to fight all the spam.